Utilibridge™ and Utility Programs
Unlocking energy data for buildings at scale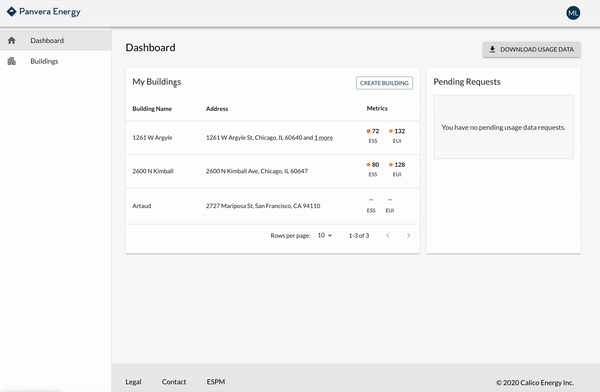 Buildings are key to decarbonization and energy efficiency targets and critical levers for demand flexibility and grid interactivity. Scaling those advancements requires baseline data for millions of buildings. Calico's Utilibridge™ solution creates verified building level utility data, connecting utilities with the buildings they serve and enabling the ecosystem that powers, owns, manages, serves, regulates, and inhabits the built world. 
Increasing momentum around building–focused energy policies mandates reliable, ongoing access to accurate data. Unavailable or incomplete data renders those policies ineffective and is inhibiting market adoption and scale.  Evaluating energy use in a building without accurate data misses the mark, and utilities are the only possible source for historic and ongoing data at scale. 
Solving the energy industry's most complex data aggregation problems with our Utilibridge™ solution for over 15 years.
Calico Energy is a mission driven company focused on scaling energy solutions and decarbonization. We think outside of the box and work to make the world a better place.
Interested in learning more?
Interested in Utility-Enabled Data Access? Us Too.
Existing buildings account for nearly 40% of energy consumption in the U.S. Moreover, direct and indirect emissions from buildings rose to 10 GtCO2 globally in 2019, the largest amount ever recorded and a serious threat to our climate. Meaningful change starts with reducing consumption, continues with investing in energy efficiency and retrofits, and leads to transforming buildings into grid-interactive assets – none of which can happen at scale without baseline data for every building.
Building energy consumption remains an unsolved problem at scale – it takes baselines across all building types and sizes to drive meaningful change. Utility data is the key, but easy, consistent access has stalled progress for years. 
This playbook explores the barriers, practical approaches, and stakeholder benefits around utility-enabled whole building data access. 
Calico perspectives. Industry insights.
Ready for a demo of Utilibridge™? Want to learn more about Calico? We'd love to hear from you.
Calico Energy is a mission-driven company focused on scaling energy solutions and decarbonization.