The next generation of energy ecosystem programs are emerging.
Our data experts are ready with pragmatic IT solutions for utilities.
Founded in 2010 and headquartered in Chicago and Seattle, Calico Energy provides trusted energy data solutions for utilities, their partners and customers. Having solved some of the industry's most complex data aggregation and energy usage system problems, Calico's technical experts continue to tackle the evolving array of data issues re-defining our industry. With proven, efficient applications and tools, Calico enables optimized decision-making for energy consumers and service providers.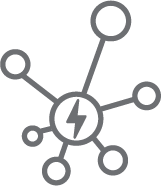 At Calico, our utility data consultants and industry experts aim to create successful energy management programs and effective IT solutions for utilities and their partners.
Want to see how we live our mission every day? Take a look at our solutions.
In our experience, utilities often need solutions and services tailored to their specific ecosystem. That's why Calico will never implement a one-size-fits-all approach for a diverse set of problems. Whether the project is big or small, high-profile or highly technical, we're interested in helping you find solutions that work. Visit our Services page to learn more about our areas of expertise, from load management program design to software development and innovation execution.
If you think our utility data consultants and industry experts can help your organization right now or build value for your business moving forward, we'd love to talk. Contact us today to learn more about a working relationship with Calico.
Interested in learning more about our expert consultants? Visit our Team page.
Searching for your next role? Up for a challenge? Want to join a close-knit team? We're looking for people like you. Browse our open positions.
Looking For Some Quick Company Facts?
If you're ready to share more about Calico's expertise and industry experience with your colleagues, download our Company Overview sheet.