Calico's Utilibridge™ Overview
Our software makes building compliance easy, handling complex multi-tenant aggregation and adding value for application administrators.
Data Access Should Be Simple For All Involved.
Get the facts and figures behind our successful solution.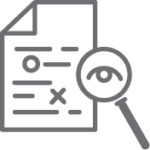 With building benchmarking ordinances and building energy performance standards ramping up across the nation, utilities face a complex choice. They can build a tool from the ground up, or find a trusted, ready-to-implement product. Tested and proven successful in our customer implementations, Calico's Utilibridge™ helps utilities respond to customer data requests in one easy-to-use application. It gives building owners and operators a way to manage properties and energy usage data. This paves the way for the useful insights that increase energy efficiency and optimize operations.
Whether you're a utility or a city government official working to build a process around your new building benchmarking ordinance, start making the case for a new approach in your organization today. Download our Utilibridge Overview to find out why Calico is the right software partner for your benchmarking initiative.
First, we just need some basic information about you.
By clicking download, you are indicating your acknowledgment and acceptance of Calico Energy's terms and conditions outlined in our Privacy Statement. 
Want to see the application in action?