What's Your Baseline? Benchmarking and the Advent of Building Performance Standards (BEPS)
If you're in the utility world, or the energy policy world, or the building management world (or, or, OR), you know about building benchmarking. Typically when required, owners measure and submit their building's energy consumption for comparison and analyses, most often by the EPA. For a while, these policies proliferated across the nation, providing low-cost, low-risk resource conservation and climate change mitigation.1 Recently, policies have seemingly slowed, in stark contrast to the progression of climate change. Amid this benchmarking plateau, a new type of policy is cropping up in early adopter cities: building performance standards (BEPS).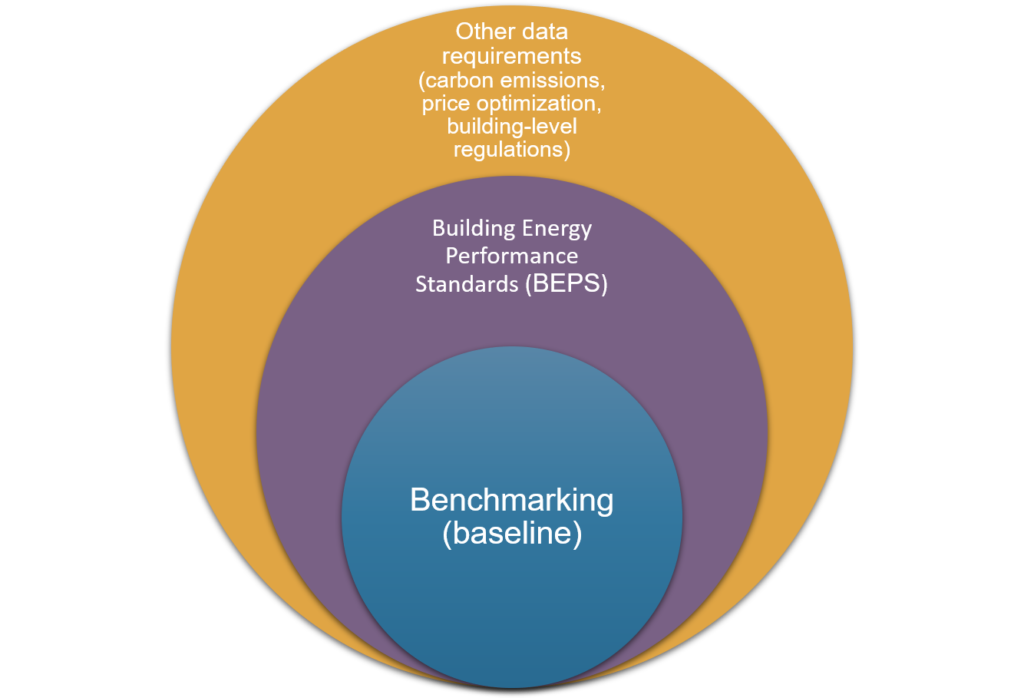 How do these standards differ from benchmarking? It's helpful to think of it all in terms of concentric circles – where benchmarking requires measurement and reporting of usage data (the inner circle), BEPS create energy performance targets, including everything from retrocommissioning requirements to whole-building standards for other data points (the outer circle).
And then, other goals are possible beyond. Building performance standards are the next logical phase in reducing building sector consumption – and a critical way to put climate and emissions targets within reach.
It's not speculative, either: building performance standards have the potential to drastically reduce building sector consumption. The city of Boulder estimates that as of the end of 2018, their program had saved about 1.9 million kWh of electricity, 460,000 therms of natural gas, $520,000 in energy costs, and 3,900 million metric tonnes of CO2.2  The success in early examples proves that utilities, policymakers and private sector vendors should work together to achieve real reduction and savings. The market is ready for this evolution.
So, where does that leave benchmarking? We mentioned a plateau in new policies earlier – but there's more to that slow-down than meets the eye. Yes, passing any policy takes a complex cocktail of political will, stakeholder involvement, policy champions, and market size.3 And yes, parts of the nation face tougher odds than others. But when we look at the larger landscape, it's clear that while policies and their labels are evolving, benchmarking as the path towards accurate usage data over time is not going away. Most of the policies captured below require a building level view of consumption, or, in short, they start with benchmarking.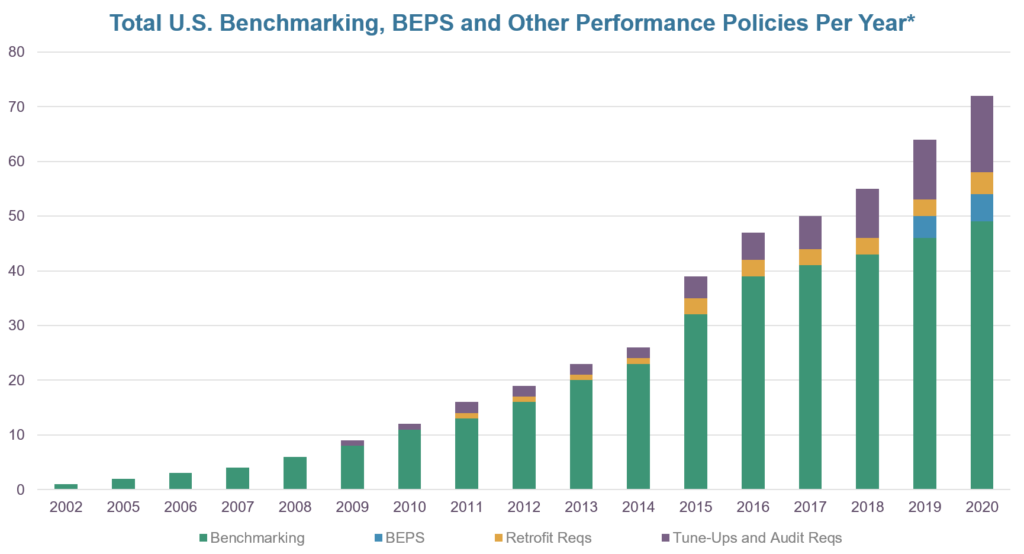 *Data pulled from buildingrating.org and ACEEE's June 2020 Mandatory Building Performance Standards: A Key Policy for Achieving Climate Goals report. Building benchmarking policies displayed include both voluntary and mandatory policies for cities, states and counties. All data is approximate and based on best sampling possible.
Going forward, we're likely to see this trend continue, with some cities introducing benchmarking via BEPS policies, layering on regulations that require accurate data for a multitude of reasons. This doesn't mean that cities and states, especially those facing obstacles, won't take a phased approach (starting with benchmarking alone). Even so, one thing is certainly clear: benchmarking is not a thing of the past. It's part of the future more than ever before.
At Calico, we believe that the future of BEPS, the success and opportunities they will create, depends on whole building benchmarking. Here are a few reasons why:
Benchmarking data is the baseline for meaningful BEPS results. Put simply, benchmarking is the baseline for building energy consumption. To meet performance standards and reduce consumption in various mandated ways, it's critical to know your starting point. If a standard mandates an EUI reduction of at least 10% relative to the baseline year, you need that benchmarking data. If a policy mandates an ENERGY STAR® score at least 15 points higher than the previous year, you need that benchmarking data. And to ensure that standard of performance over time, and meet inevitable new targets, you need building benchmarking.

For building owners, benchmarking uncovers easy opportunities for reduction, a jump-start to meeting performance targets. The "standard" benchmarking ordinance mandates data collection and submission to ENERGY STAR®, creating a better understanding of consumption. BEPS layer on performance targets but benchmarking itself presents an easy opportunity for building owners and managers. With accurate whole-building data, they can identify an array of meaningful retrofits, big and small. And even low-cost optional steps can better position buildings to meet upcoming performance standards.

For utilities, whole building benchmarking (and the building data point) will unlock the increased program marketing opportunities created by new BEPS policies. We've talked about this a lot, but it's worth repeating. Benchmarking data unlocks program portfolio and resource management potential for utilities. As BEPS become more widespread, utilities will have increasing opportunities to target customers for energy efficiency program participation to support compliance with more aggressive standards. There's significant opportunity for utilities in these approaches as well, and all it takes is a data-based understanding of "the building." For those examples, check out our recent blog post: Think Benchmarking is All About Compliance? Think Again.
1 2016 ACEEE Summer Study on Energy Efficiency in Buildings.
2 Mandatory Building Performance Standards: A Key Policy for Achieving Climate Goals, ACEEE, 2020.
3 2016 ACEEE Summer Study on Energy Efficiency in Buildings.
Check out the latest from our blog…
Want to know more about our whole building Benchmarking Application?
Looking for additional resources?
Ready to Learn more About Calico?